Organic

Lawn Care

If you are into organic like we are, we have a lawn care program you are going to love. JT Landscape & Organic Lawn Care is proud to offer a fully-organic lawn treatment program that delivers results!
At a glance
| | |
| --- | --- |
| Availability | March – December |
| Frequency | Every 3 to 4 weeks |
| Price | $45 and up |
| Free Quotes | Call, email, or online |
| Contract | No |
| Payment due | For options – Click here |
| View photos | Click here |
| What's included? | Learn more below! |
Natural Green is the Best Kind of Green!
By improving the condition of soil your turf grows in, your lawn's root system can more easily consume the nutrients it needs to thrive.
Thick, lush lawns naturally crowd out weeds!  If your lawn has thin or bare spots, we install sod and offer aerating and overseeding services to solve that problem!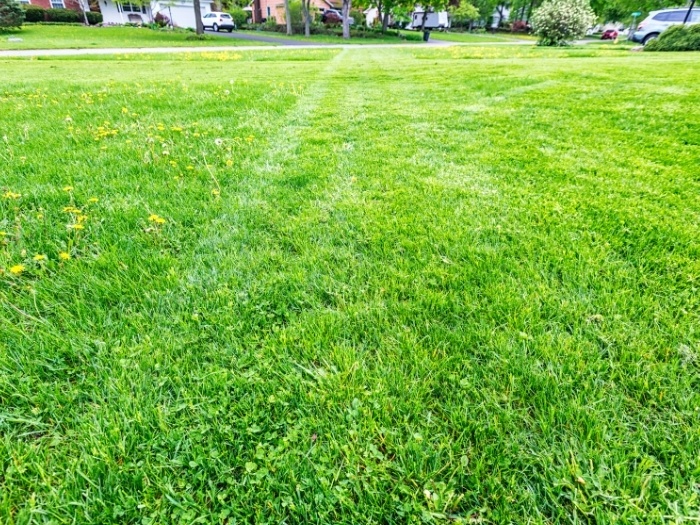 Organic Fertilization and Weed Control
There's no service we take more pride in than our 7 step organic lawn care program!
After years of research, we've perfected the perfect treatment plan for achieving a green and lush lawn without the use of dangerous chemicals. Stop worrying about how lawn care chemicals might affect your family and pets and start enjoying your lawn!
Before we begin, we take a soil sample to determine your lawn's PH level. We'll use this soil sample to customize our 7 step program to your lawn's unique needs.
Here's our 7-step lawn care program:
Step One – Non Toxic-Lime Treatment or Organic Elemental Sulfur Treatment
This fast acting application is designed to raise the PH of your soil and increase the effectiveness of organic fertilizer. The treatment we used is based upon your lawn's unique needs.
Step Two – Early Spring Application
A complete application of organic start-up fertilizer to give your lawn a head start during the growing season. Includes pre-emergent crabgrass control to stop weeds before they start.
Step Three – Late Spring Application
A complete application of slow release and non-toxic organic fertilizer, a second application of pre-emergent crabgrass control, and broad leaf weed control.
Step Four – Early/Midsummer Application
A complete application of a balanced slow release organic fertilizer alongside a broad spectrum insecticide to protect again surface feeding insects that may damage your lawn.
Step Five – Mid/Late Summer
Full inspection of your lawn to check for signs of disease, insects, or improper watering. Afterwards, your lawn will be spot treated for any existing weeds, nutsedge, or crabgrass.
Step Six – Late Summer/Early Fall
A complete application of organic, balanced fertilizer to help rejuvenate Summer stressed lawns before the cold season along with additional broadleaf control.
Nutrients will be applied to your lawn alongside Screamin' Green organic winterizer fertilizer to protect your lawn during winter and help boost root development and encourage carbohydrate reserves for a greener lawn in the Spring.
We also offer several optional addons for our organic lawn treatment program including core aeration, disease control, grub control, and lawn renovations using mushroom soil. 
Lawn Care Quote Request Form