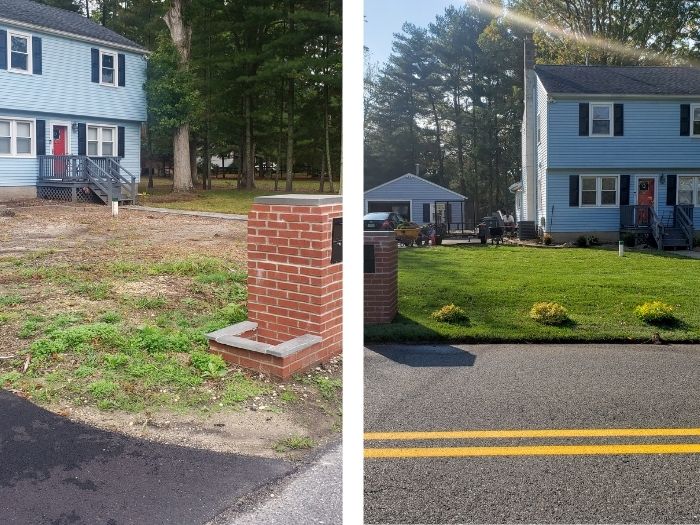 We know you have questions!
Below we have provided the most common questions and answers we have received.  If you don't find the answer you're looking for, please reach out to us!
We're happy to answer any questions you may have.
Do you only offer organic lawn care?
While we take a lot of pride in our organic lawn care program, we understand that it's not the right fit for everyone. We're happy to accommodate requests for traditional chemical fertilization and weed control.
Can organic lawn treatments be as fast and effective as synthetic chemical-based lawn treatments?
Organic lawn treatments are effective, but they take longer for results to become noticeable due to their slow-release nature. Organic treatments must be broken down by microorganisms in the soil, while synthetic chemical-based treatments begin working on contact.
How much is Lawn Care?
Lawn mowing starts at just $40 per service and includes mowing, edging, trimming, and cleanup.
Our prices vary based on the size of your lot and the service you are interested in. We charge a small additional fee for overgrown lawns so we can focus on getting them under control.
You may request a free estimate for any service you're interested in, and we do offer a 10% discount for seniors and military members.
What areas do you service?
Please reference our service area page.  We serve Camden County, NJ, and the cities of Sicklerville, Blackwood, Pine Hill, and Williamstown.
Are estimates really free to request?
Yes! Our estimates are 100% free and come with no obligation. Even if you choose to use another lawn care company, you'll never owe anything for an estimate.
Can I cancel at any time?
Please cancel 7 days or more before your scheduled services, so we have time to update our schedule.
Do your employees wear a uniform?
Yes, you will know exactly who is on your property with just a glance.
Is JT Landscape & Organic Lawn Care on social media?
JT Landscape & Organic Lawn Care is on both Facebook and Instagram.
Is JT Landscape & Organic Lawn Care licensed and insured?
Yes, we are fully licensed and insured.
Some larger construction projects require special licenses and certifications. For these projects, we have a network of subcontractors we work with to get your project done at the best price.
Are organic lawn care treatments safe for my children or pets?
Our organic lawn care treatments are safe for both the environment and any member of your family – including your pets and children!
Our 7 step organic lawn care program contains no chemicals such as 2-4-D, Roundup, or neonicotinoids.
What are my payment options?
We accept all major credit cards, as well as cash payments and payments made through the cash app.
When is payment due?
Payment is due on the day your services are completed. You'll receive an invoice after your services are completed that you may pay in person or online.
My fence is locked…How does JT Landscape & Organic Lawn Care handle this?
We will need a copy of your gate key to access your property to perform your services. Once we're finished, we guarantee we'll remember to lock the gate behind us.
I have dogs in the backyard…How does JT Landscape & Organic Lawn Care handle this?
While we love your dogs, we request that for the safety of your dogs and our employees you keep your dogs inside or in an area away from where your services are being performed.
I have kids that leave toys on the lawn…How does JT Landscape & Organic Lawn Care handle this?
Here at JT Landscape & Organic Lawn Care, we pride ourselves on being attentive to our customers in ways that the big guys aren't. That means we're happy to set aside any toys that your children may have left on your lawn before we begin working.