Hardscaping: Pavers, Retaining Walls, & Fire Pits 
JT Landscape & Organic Lawn Care installs hardscapes in Camden County! We create outdoor living spaces incorporate pavers, retaining walls, fire pits, and more as needed to meet our clients needs.
Let's make you outdoor spaces more functional and improve the value of your home at the same time.
At a glance
| | |
| --- | --- |
| Availability | As needed |
| Frequency | Typically a 1-time service |
| Price | Custom |
| Free Quotes? Yes! | Call, email, or online |
| Contract | No! |
| Payment due | For options – Click here |
| What's included? | Learn more below! |
We Install Pavers & Build Walls To Last
The addition of a paver patio or paver walkway, retaining wall, or fire pit not only adds interest to your home but also creates more usable space and increases the value of your home!
We construct our hardscaping projects from the ground up starting with a solid foundation so your new outdoor addition looks and functions great for decades to come.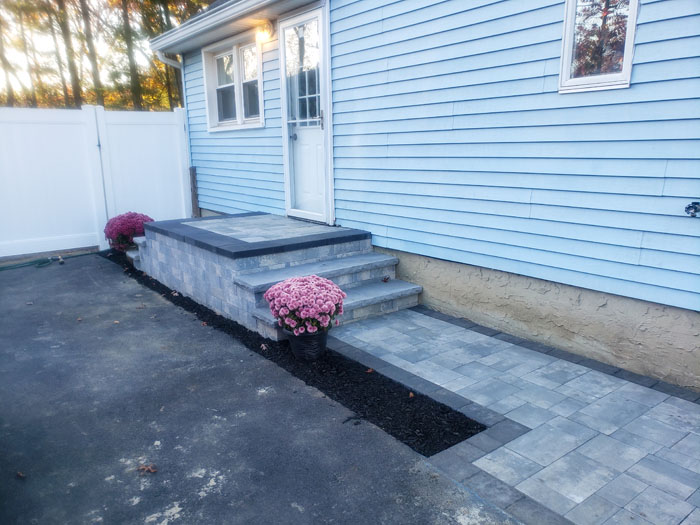 Paver Patios and Paver Walkways
Paver patios and paver walkways are a huge aesthetic upgrade compared to traditional concrete patios and walkways.
Talk to a hardscaping professional at JT Landscape & Organic Lawn Care today about available block style options, patterns, and colors.
One of our favorite paver suppliers is the E P Henry Corporation, which is also locally headquartered in New Jersey.
View the before and after photos of this paver walkway and stair entrance hardscape project.
Retaining Wall Construction
Retaining walls can be built for looks alone or to actually retain soil.  No matter why you are in the market for a retaining wall, we'd love to hear what you have in mind and provide you with an estimate.
Techno-Bloc and the E P Henry Corporation are our go-to manufacturers of quality retaining wall blocks.  They have lots of options, we are here to help you make the best decision when selecting the retaining wall block for your wall.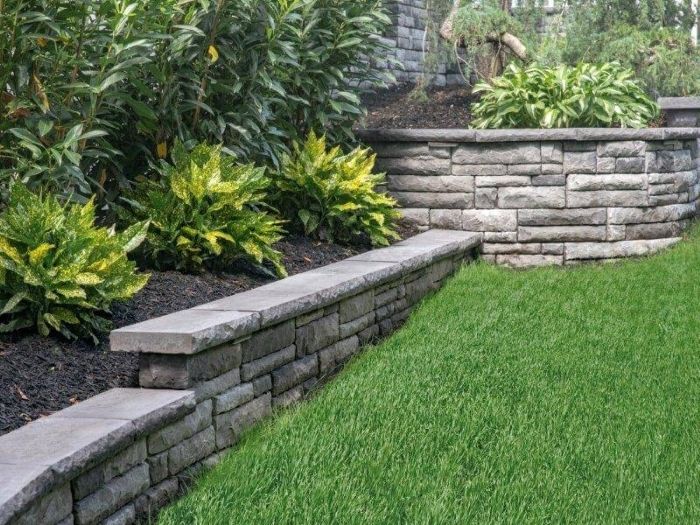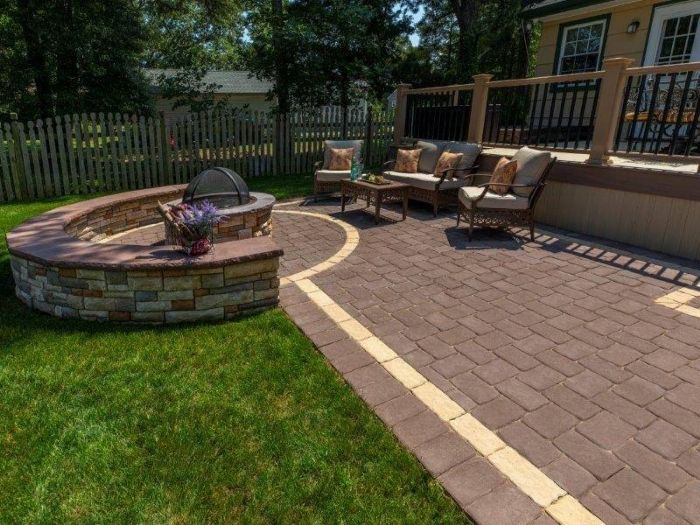 Fire Pit Builders
Fire pits bring families and friends together and extend the time you can enjoy your backyard by providing heat in the spring, fall, and cool evenings in general.
We often incorporate fire pits into paver patios and include a sitting wall for ease of enjoyment.  Of course, we can also build a fire pit as a stand-alone project and incorporate it into your existing lawn and landscape.
Paver Walkway & Stair Entrance Makeover Project
Below you can see the before and after pictures of a hardscaping project we completed in 2022.
As you can see the block and paver walkway and entrance make this New Jersey home so much more inviting!
Video Walk-Through Of Hardscaping Project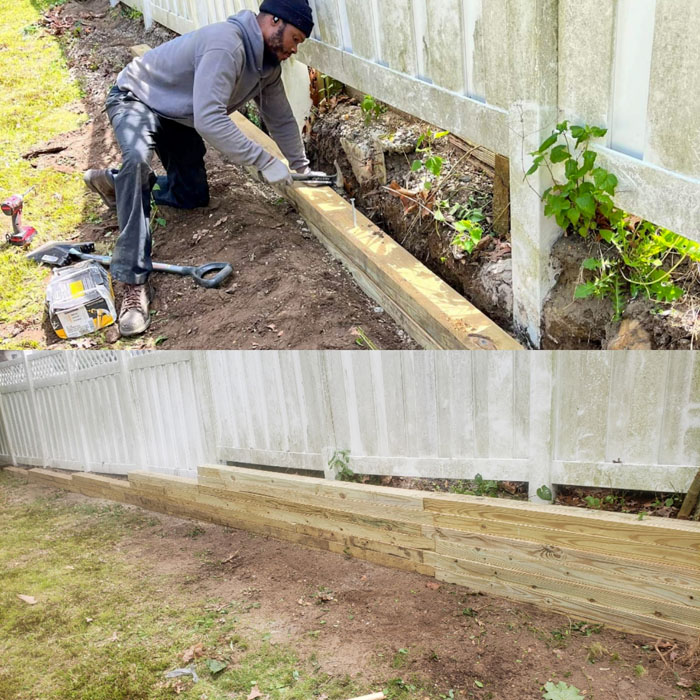 Wooden Retaining Walls
Blocks and pavers are not the only materials we build with!  Wooden retaining walls can be functional, beautiful, and cost-effective.  
Ask us about all the options you have to stay within your budget and get the landscape you want.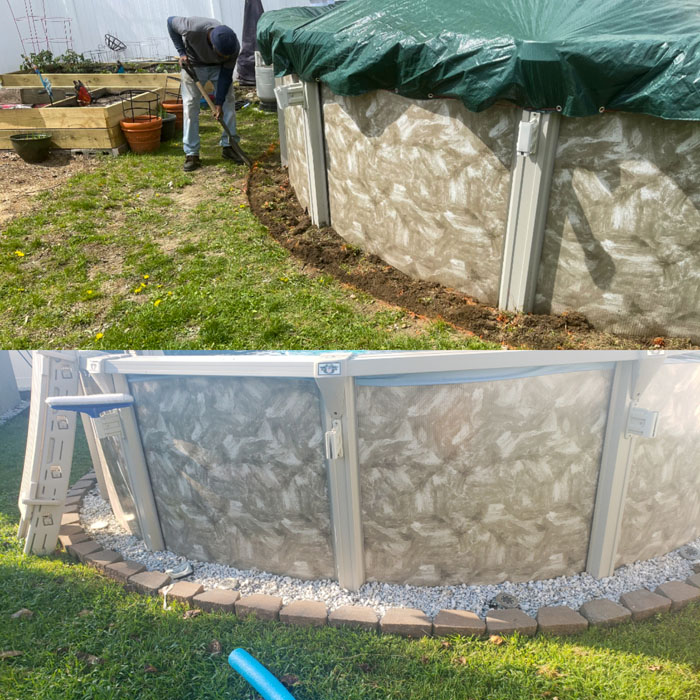 Pool Landscape & Hardscape Project
Landscaping and hardscaping are similar services, and we offer both at JT Landscape & Organic Lawn Care.
This little project of creating a rock and block border around an above-ground pool could be considered landscaping or hardscaping.
Learn more about the other landscaping services we offer.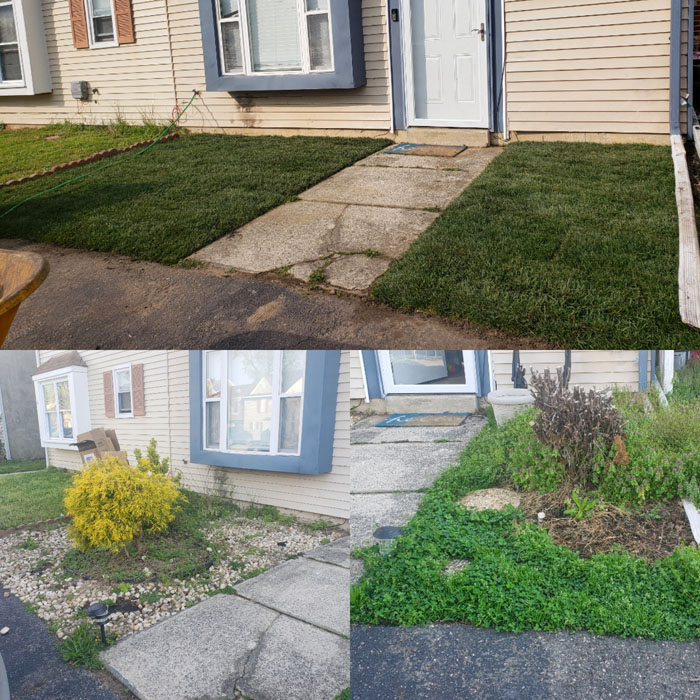 We Also Install Sod
As shown above, we ripped out the weeds and unhealthy plants in this small urban front yard and put sod back in its place.
Sod is a great way to quickly transform an area of your lawn or landscape into a beautiful, usable space.  We often install some sod after a hardscaping project to repair any damage to the lawn created while we are working.
Hardscaping Quote Request Form